Sorry…
the deadline to request a free sample has now ended. Please visit our webshop to purchase your Mocha!
The NESCAFÉ Dolce Gusto Team
Offer ended 12 December 2012.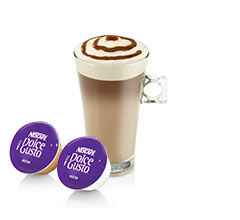 Terms and conditions
1. Open to UK, 18+ only. 2. Offer available from 7 December until 5pm on 12 December 2012. 3. Offer limited to one NESCAFÉ Dolce Gusto Mocha sample per household/business and is only available to recipients of the promotional email. 4. Each Mocha sample pack consists of 1 x 110ml coffee and cocoa capsule and 1 x 110ml milk capsule to make 1 x 220ml drink. 5. To receive a sample, recipients must provide name, full postal address and postcode. 6. Please allow at least 28 days for delivery from date of request. 7. Promoter cannot assume responsibility for incorrect/incomplete information entered, resulting in samples being lost in the post. 8. The Promoter reserves the right to reject any applications that it believes to be in breach of these terms. 9. The Promoter cannot assume any responsibility or liability for: a) Any incorrect or inaccurate information entered or for any faulty or failed electronic data transmissions. b) Communications line failure, regardless of cause, with regard to any equipment, systems, networks, lines, satellites, servers, computers or providers utilized in any aspect of this promotion. c) Inaccessibility or unavailability of the internet or the website or any combination thereof. 10. For further information regarding this offer, please contact the NESCAFÉ® Dolce Gusto® Careline free on 0800 707 6066. Promoter: Nestlé UK Ltd, 1 City Place, Gatwick, RH6 0PA, England.